Accommodation
Emerald Waterways understands that different travellers have different needs, which is why the line offers a choice of four different types of suites and staterooms to suit passenger's requirements and budgets.
Each stylish retreat offers a range of facilities and features - just like a floating hotel room which offers your own personal view of the river.
Each suite or staterooms comes with an en-suite bathroom with a selection of luxury toiletries, a queen size or twin hotel style bed and a flat-screen HD TV which features a selection of films as well as TV channels. You'll also enjoy complimentary bottled water which is restocked daily, a safe and free Wi Fi.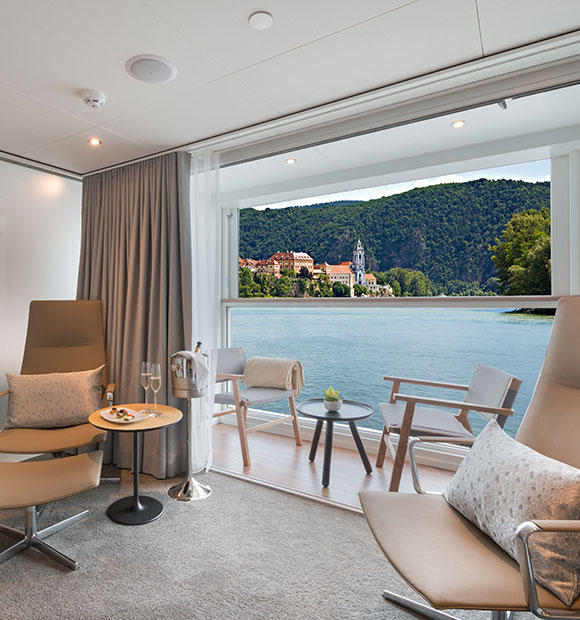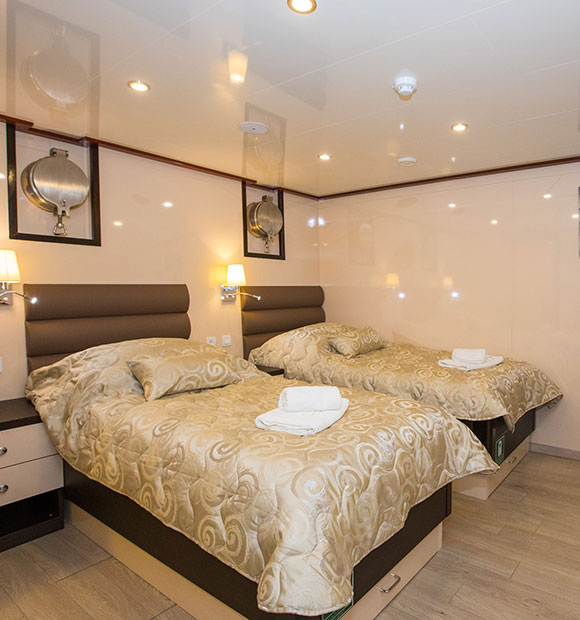 Dining
Dining is always a memorable experience on-board Emerald Waterways river cruises, with your voyage bookended by both a Welcome Dinner and a Farewell Dinner. High-quality dining is a constant throughout your voyage, on which you'll enjoy a range of delectable dishes expertly prepared to reflect the many delightful tastes of the destinations you visit.
Each day starts with a mouth-watering breakfast buffet; an experience which continues into lunch when a range of continental dishes are on offer. In the evenings, it's a five-course dinner menu daily, giving you the opportunity to enjoy an authentic taste of each region. On fine days, the Terrace is the perfect place to dine al fresco, whether that's greeting the sunrise with a coffee and a continental breakfast, enjoying a café-style lunch of soup or sandwiches or sampling smoked delights from the barbecue.
Drinks
Complimentary drinks are included with lunch and dinner and Emerald Waterways' team of attentive staff will always be on-hand to help you choose a drink to suit your chosen meal. Each evening you can enjoy a selection of wines which are sourced from local vineyards and hand-selected by the on-board sommelier to accompany each of the dishes on offer.
There's also an extensive drinks menu which consists of premium tipples and rarer-label wines and spirits if the mood takes you (for an extra charge).
Excursions
The beauty of a river cruise is exploring a different port of call almost every day. Each itinerary is carefully planned to ensure that each ship visits only the most interesting ports of call along each river, so that you can experience the very best bits of each country you visit.
Emerald Waterways have carefully planned a series of exciting days ashore which takes you not only to the heart of the towns and cities you visit, but also off the tourist trail to discover hidden gems and interesting local cultures. Whether you're enjoying a walking tour of a new town, or viewing an ancient city from the windows of a luxury coach, English-speaking guides will bring your journey to life with their informative commentary. Each guest will be provided with a personal headset to make sure that you don't miss anything.
Starting Your River Cruise
Each river cruise includes return flights from a choice of up to 16 UK airports as well as luxury transfers to and from the ship. This removes much of the stress of travelling, as all you have to do is arrive at the airport on time.
If you prefer not to fly, you can travel by Eurostar at no extra cost on selected cruises.